Color adobe is one of the best tools for creators, looking to create beautiful and unique color palettes.
Its part of the color.adobe.com web app and for a free tool, it offers a lot of great features and insights into the field of colors.
There are many things that the adobe color web app can do and new features are added every now and then. As of 2022 the tool has following features.
What all you can do with color adobe web app
The adobe color web app has 4 main sections and multiple tools inside it. We will see all of them briefly , but our main focus will on the color wheel tool.
#1 : Create
This section of color adobe tool offers 4 great tools to color enthusiasts and creative artists. All these tools are absolutely free and do not even require you to sigh in.
This tool can be used to create color pallets and rule based color combinations. 10 different rule types and 4 color modes can be used. We will see in detail further down.
Extract Theme
As the name suggest this tool allows you to extract a color theme or color palette from an image.
You can upload your own image or any image that you like and extract colors from it. You can select various points on the image to select the right colors that define that image.
Here is an example of an image of a flower , you can see various colors that the adobe color web app extracted from the image to make a nice color palette.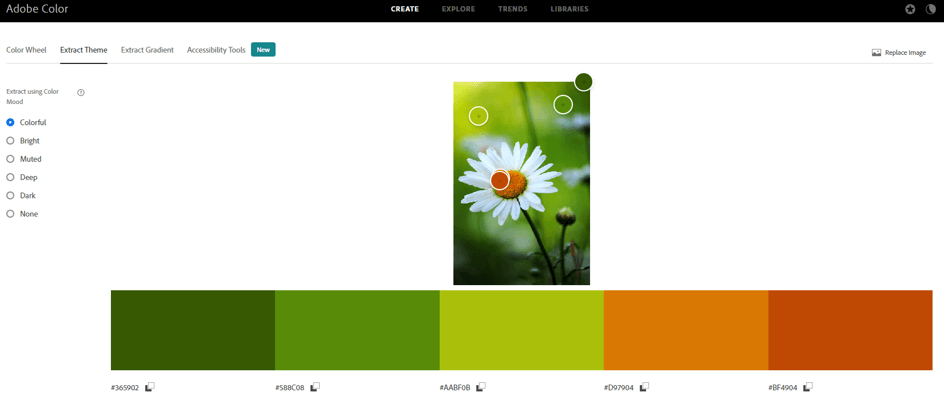 Extract Gradients
This is similar to extract theme but instead of a color palette it helps to select a gradient. This can be a great tool to match the color theme of your website or app or any other digital art with the right gradient.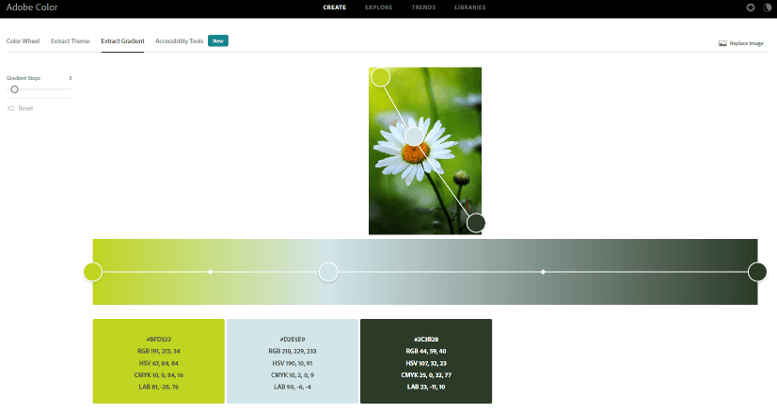 Accessibility Tool
This is again a fantastic tool to check the contrast between a background color and text color. You can check any text color against any background color to understand how it will work and how easy or difficult it will be to read for your viewers.
A contrast ratio of 5 or more is generally considered great for headlines , banners and anything that needs users attention.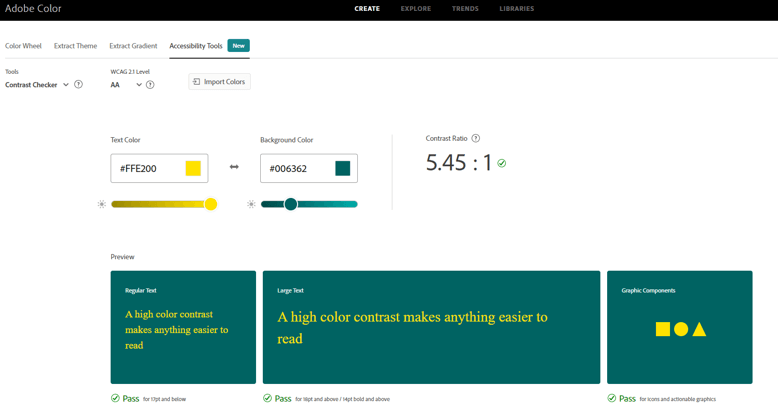 #2 Explore
This section has thousands of free color palettes. One can search any color palette based on an object , a color name or anything that comes to your mind. You may need to sign in to download the palette but its still free.
It allows you to add any color palette to your library and use it later. This is a great tool if you want to get some work done quickly.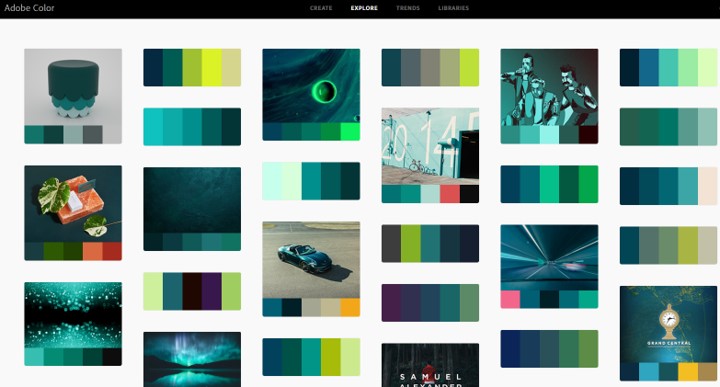 #3 Trends
This section allows you to discover current color trends in different industries from the creative communities on Behance and Adobe Stock.
This will keep you up to date with current trends in the creative field.
#4 Libraries
This is where all your saved content from this web app is stored. Everything that you add to library is stored here and is also available to you in various other Adobe tools such as Photoshop and Lightroom once you are signed in.
Now that we have covered the app in brief. We will get into the main topic for this post , the Adobe Color wheel .