Action camera protector has become essential due to the way action cameras are used these days. Action cameras tend to go through all kind of abuse during usage and having a good action camera protector is important to maintain the longevity of the camera.
Lens hood and lens protector are also important camera protection equipment , you can read all about it here.
What is an action camera ?
Action cameras are small hand-held, rugged or mountable digital camera made to record what you see while you're engaged in a journey, sport or an event.
The action camera is generally attached to your helmet or chest, the handles of the motorcycle or bike or tripod, to record your life.
Each camera has a reason for being there. For professional photographers using a DSLR or a mirrorless camera, is the ideal device. For beginners who just need to capture a beautiful picture, a point & shoot camera is the best choice.
An action camera is specifically designed for divers, vloggers, cyclists or anyone who enjoys outdoors activities and wishes to capture their experiences.
These days the action cameras are efficient and are able to create high-quality video and photos across all types of settings.
Action cameras come with many interesting features which make them very useful to capture action happening around. They have 4K video , Image stabilization , possibility to mount on various objects , high storage capacity and so on.
You can also use a action camera flashlight and take some amazing photos and videos. There are various creative ways to mount the action camera and that gives unique perspective of the scene.
You can read our post on about action camera body mount and action camera microphone attachment get more from your action camera.
Why do you need a action camera protector ?
Action cameras go through a lot of abuse during usage. They are mounted on helmets , bike handles , car bonnets , bike silencers to get interesting angles and action shots.
They can be exposed to dirt , dust and even some hard hits to the screen. Action cameras can also be exposed to rain and other water sources and harsh weather conditions.
Protecting the screen of your camera and the camera body itself is important. Three type of action camera protector gear is available in the market.
Screen protector : Protects screen from dents , scratches , hits by small objects during shooting
Camera Case : Protects camera from shock and vibrations during use , occasional falls etc.
Waterproof case : In case your camera is not waterproof and you want to use it under water. You can use waterproof protector screen.
Lets take some of the action camera protectors in detail and see some buying options.
If you are using a DSLR or mirrorless camera and lenses you can protect it by using a hard camera case.
Action camera protector for screen
Action camera screen protector generally comes in three pieces. One protector for the front screen , one for the back screen and one for the lens itself.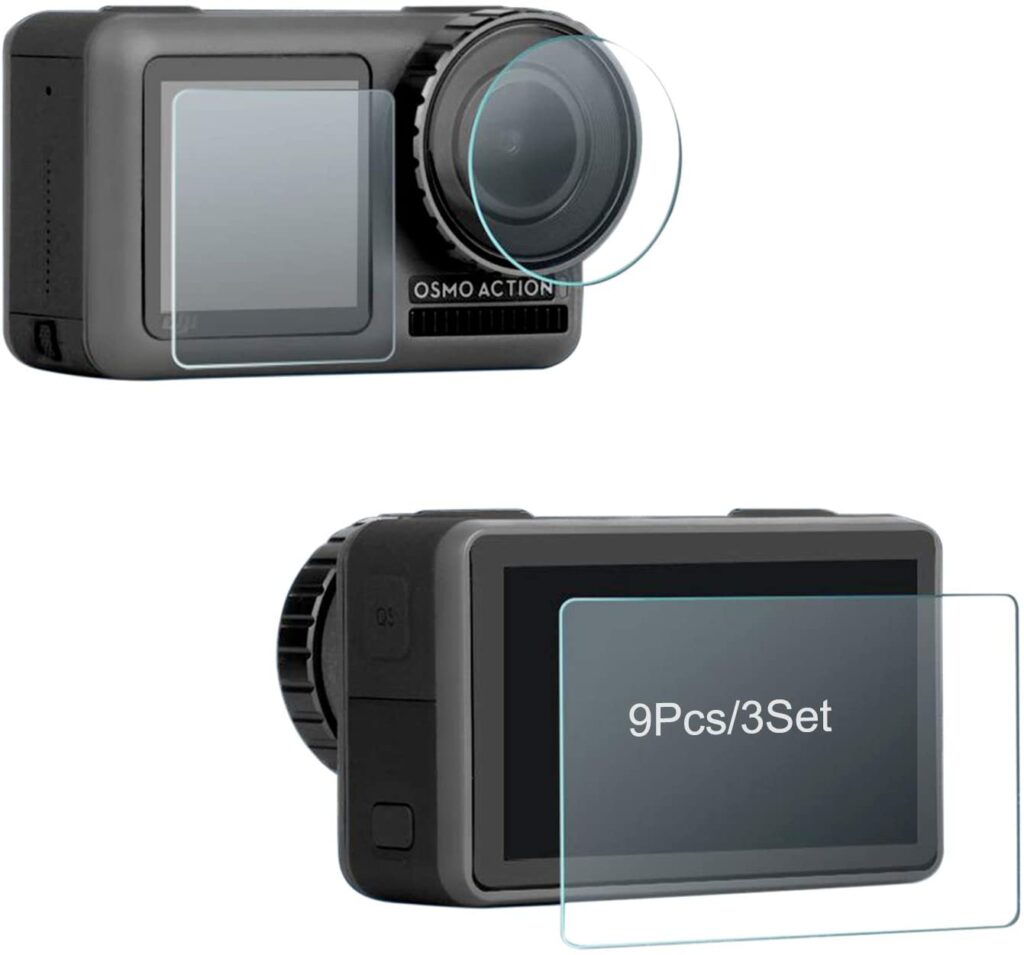 Protecting all these glass surfaces are important for the safety of the device.
There are many options available in the market , especially for popular action camera models such as GoPro and DJIAction cameras.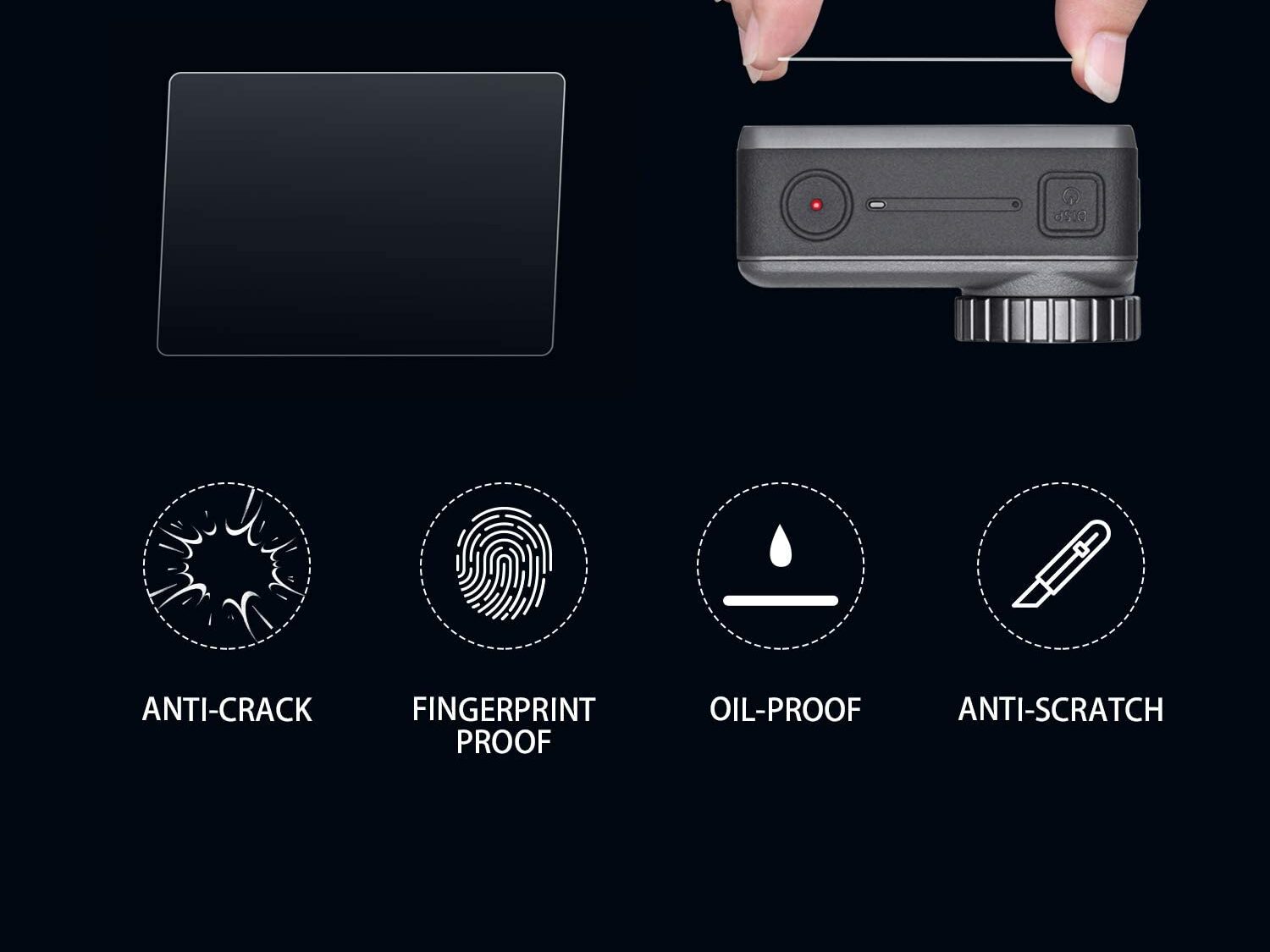 Tempered glass screen protector offer good safety without deteriorating the image quality.
The front and back screen protector for action camera help to protect the LCD screen from getting damaged and also protects from smudges , cracks , scratches during operation.
Most of them are also oil proof and can be easily cleaned to get a clear view at settings and video playback.
Action camera protector on these screens can really help to increase the life of the action camera.
Here is a list of some popular action camera screen protectors.
Action camera protector case
Another type of protection you can add to your action camera is the silicone cover. this helps to avoid dents and damages to the camera and absorb some of the shocks and vibrations as well.
Some cases and covers are also available to securely keep the camera during travel.
Action camera protector case is like a complete protection for your camera. The silicone / rubber material absorbs shocks and protects camera from breaking apart during minor falls.
It does not protect the screen directly , but it does provide some protection tot he screen edges.
The action camera protector also adds a layer of protection during travel and also comes with a separate protective cap for the lens.
Action camera protector – waterproof case
If you cation camera is not waterproof then adding a waterproof case to the camera is a great way to increase the usability of your action camera.
Waterproof cases are available for most popular action cameras.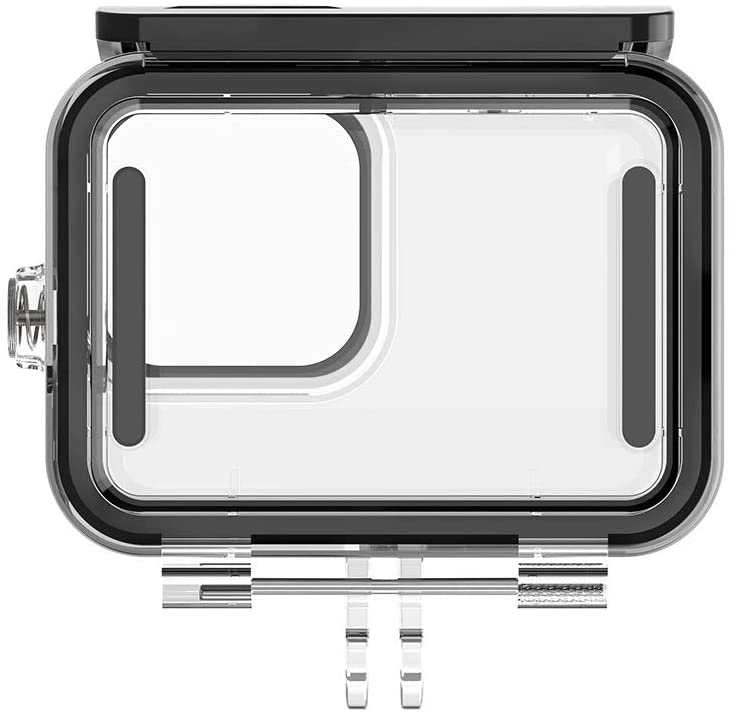 Action cameras are fun when used under water. Though most action cameras have some protection against water , a proper action camera protector waterproof case can give you added safety.
You can go fairly deep in the water with case on and capture beautiful sea life or some amazing underwater shots.