Action camera as the name suggests is used to capture " action" ! , you want to capture it in as interesting way as possible. That's where action camera mount and specifically action camera body mount comes into picture.
Action camera videography moves away from the traditional hand held or tripod mounted method of capturing and gets right into the scene.
This of course can only be done if the camera is the part of the scene or is with the person or object in action.
Mounting the camera on person performing a stunt in gives an interesting point of view to the scene and that's what makes action camera videos very interesting.
Action camera mounted on body of an athlete , attached to handle of a bike going down the hill , attached to the side or top of a car , action camera mounted on helmet are all part of the same new generation action camera cinematography.
Lets dive deep into it and understand various ways for an action camera body mount.
If you are looking to buy a mount for your action camera , then here are some recommendations.
If you have an action camera then you might also be interested in our articles on action camera flashlight , action camera protector and action camera microphone attachment
If you are looking to body mount your DSLR or mirrorless camera then you can read our post on 3 point slinger for camera.
GoPro and DJI are some of the popular action camera manufacturers , however they can be expensive and there are many budget action camera options as well.
What is an action camera ?
Action cameras are small hand-held, rugged or mountable digital camera made to record what you see while you're engaged in a journey, sport or an event.
The action camera is generally attached to your helmet or chest, the handles of the motorcycle or bike or tripod, to record your life.
Each camera has a reason for being there. For professional photographers using a DSLR or a mirrorless camera, is the ideal device. For beginners who need to capture a beautiful picture, a point & shoot camera is the best choice.
An action camera is specifically designed for divers, vloggers, cyclists or anyone who enjoys outdoors activities and wishes to capture their experiences.
These days the action cameras are efficient and are able to create high-quality video and photos across all types of settings.
Action cameras are generally very light weight , easy to mount on anything and very easy to use with few buttons or controls.
Action cameras come with many interesting features which make them very useful to capture action happening around. They have 4K video , Image stabilization , possibility to mount on various objects , high storage capacity and so on.
Action Camera body Mount
Most action cameras come with a folding finger mounting system. This is useful for mounting it on a stand or a selfie stick.
However the real fun with action camera is when it is mounted on body of the person . This way you get the first person POV ( Point of View). This kind of videos give you a completely different feeling and experience while watching the video.
There are three main ways to body mount an action camera . Chest mount , Head mount and a shoulder mount.
Lets see all these in more detail and pros and cons of these methods. Lets also see some examples of videos that you can expect from different types of action camera mount methods.
10 Best ways for an action camera body mount
Action camera body mount basically means attaching the camera directly to some part of your body. Head, chest , wrist and shoulder are some of the popular action camera body mount options but there are many more as we see below.
1. Action camera chest mount
Mounting your camera on chest or rather strapping it on to your chest is a very popular way to shoot the first person POV videos. As the camera is securely mounted to your chest , your hands are completely free to carry out required stuff.
Chest mount gives a better point of view in some sports compared to a helmet mounted camera such as hiking and skiing.
However , if you are using it to be worn on your chest , then you have ensure that the straps you use are securely held, but loose enough to let you breathe.
If you're engaged in vigorous exercise this is essential because you must be able to breathe normally and move freely without causing any impairing your performance.
Thus, you require a chest harness that has an adjustable strap to hold your camera to ensure that it can be incorporated in any type of body.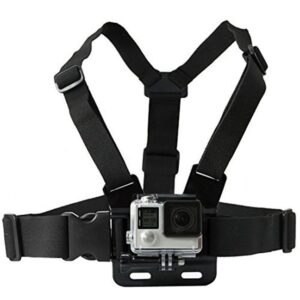 It's sturdy and lightweight, but it will keep your camera in place with a secure grip whatever you're planning to take part in like climbing, hiking or skiing, and the list goes on.
Here are some videos captured with action camera chest mount method.
A typical action camera chest mount will come with following features.
Lightweight, flexible construction balances comfort and performance
Padded and breathable materials stay comfortable during any activity
Fully adjustable to fit a wide range of body types and over heavy winter jackets
Specially designed quick-release buckle lets you get in and out easily—even with gloves on
Stable platform for capturing incredibly immersive hands-free footage with GoPro cameras and Karma Grip
2. Action camera shoulder mount
A camera mounted in your back will provide an improved view angle rather than sitting on your chest. But, you shouldn't set the camera up this way for all outdoor activities. If you're planning to climb or climbing, it is best to change to another location as the camera could be damaged or won't display a great video.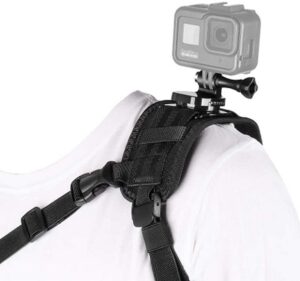 To help support the camera to your shoulders the shoulder mounts are put on your chest. A shoulder mount is usually waterproof, with very strong joints that keep your camera in place and is able to rotate 360 degrees. rotation angle to ensure that your camera can be rotated around
3. Action camera head mount
If your primary activity will involve biking or riding a motorcycle then the ideal place to put your camera is the your head or your helmet. You'll be able to capture everything you're watching, and it won't impede your vision or hinder you by any means.
Helmet mounted action camera can capture some amazing videos of hill bike riding , can capture beautiful roads as your travel on them , it can also capture amazing adventure videos. Here are some examples of some amazing videos captured with action camera helmet mount.
This is a fantastic option for those who commute on motorbikes or bicycles all day. If something happens and you need to prove it, you'll always be able to show video proof of your insurance claim or the court case.
4. Action camera wrist mount
Action camera wrist mount is also a very popular way to mount action camera in some specific situaitons.
Snorkeling the reef? Shredding the slopes? or diving from the sky ? you can get a unique view with the Action Cam wrist mount.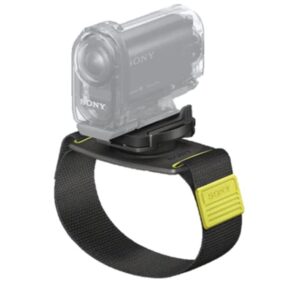 The base generally rotates 360 degrees, locking into various pre-set positions to let you choose the angle of the action.
Tough, lightweight strap fits snugly around your wrist. The camera is held securely and comfortably for great shots every time.
5. Action camera clip mount
Apart from these four main ways , you can also mount your action camera in various ways by using a clip mount.
For the activity you are trying to do, there can be times where finding a suitable mounting area can be difficult. This is where the clip mount shines because it is able to mount itself onto any surface such as your clothing, backpack, or other carriable items using its high-tension jaws.
These are easy to carry around and are a great solution for when you are in need of a place to mount your camera on the fly. You can always keep these with you as a back-up and it will securely hold your camera in place.
6. Action camera helmet side mount
One more classic and one of the original ways to mount the action camera is to the side of the helmet.
Mounting the camera this ways gives a unique perspective and is not hindering to the user in any way.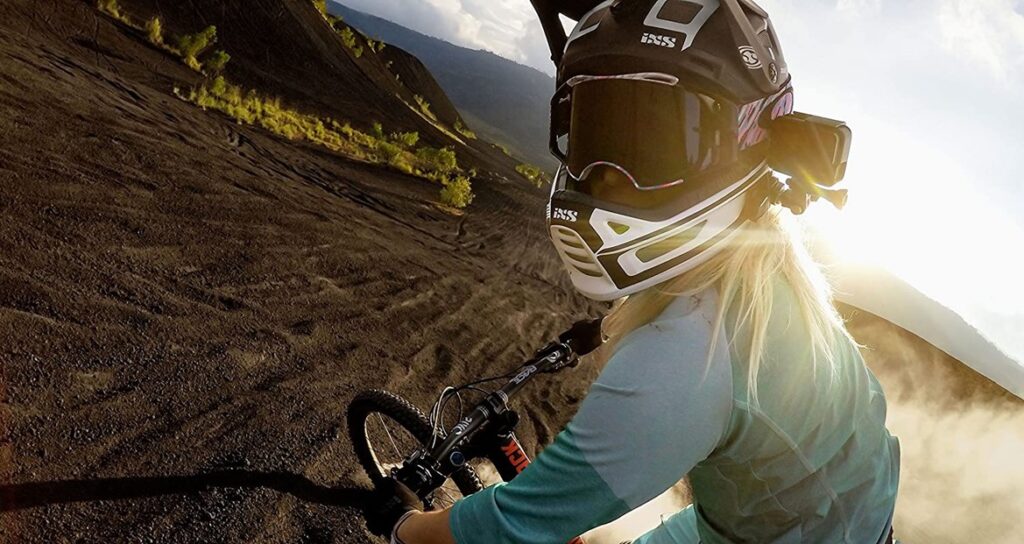 There are typically two types of helmet mounts available: a straight mounted adhesive and a curved one that more precisely conforms to the shape of the helmet.
Choosing the curved helmet type will ensure a more secure fit because the straight mount is actually better suited to installing a camera to a flat surface.
7. Action camera backpack mount
There is a backpack mount as well that functions similarly to the shoulder mount except that it is fastened to the strap of a backpack.
The backpack mount is comparable to the chest mount but is preferable because it may frequently be taken off without removing the harness.
Additionally, the backpack option eliminates the possibility of a restrictive belt around the body which improves usability.
8. Action camera bite mount
The bite mount is second only to the helmet mount for obtaining a genuine first-person viewpoint. The mount was created so that the camera could be placed in the mouth and securely held in place by biting down.
Since it was first introduced, the Bite Mount has gained popularity among skydivers and surfers alike. When used underwater, it features a floaty attachment that can help the camera float after a surfer goes down in a big wave as it breaks.
9. Action camera mask mount for scuba diving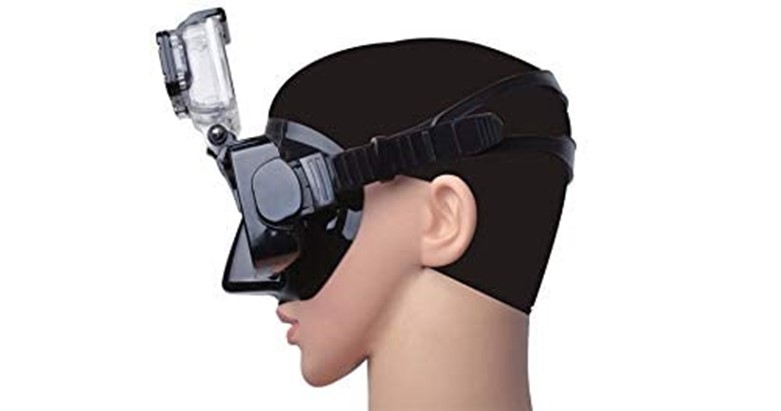 Scuba diving is another great way to capture the POV footage underwater. Scuba mask mount for action camera is one of the most popular ways to mount an action camera while scuba diving.
This mounting method gives great first person perspective and does not cause any hinderance to the driver