Are you an outdoor or wedding photographer who is struggling to carry the camera gear for long durations ? You want to carry more than one camera gear at a time ? or you want hands free body mounting for your camera ? .. in all these cases a 3 point slinger for camera is the best option.
Conventional camera straps have a lot of functional and ergonomic issues , these can be easily overcome by using other means of camera body mounting.
In this post we will see alternate methods of carrying your camera more effectively such as a 3 point slinger for camera , 3 point slinger for 2 cameras and camera vest.
Here are two slingers that we recommend , these are lightweight , comfortable and have safe operation. You wont go wrong with these. We will see both in detail later in this post.
Image
Product
Details  
Price
BlackRapid Breathe Curve 3 Point Slinger
Best 3 Point slinger in the market.
High quality , comfortable and durable.
Check Price
Waka 3 Point Slinger
Value for money , good slinger at low price.

Check Price
If you are into action cameras then you can also read our post on various ways to body mount your action camera.
3 Point slinger for camera
3 point slinger is a very effective way of mounting the camera on your body while your hands can remain free. A slinger for camera can really help you to reduce neck pain during long usage of camera gear.
What is a 3 point slinger for camera ?
A typical 3 point slinger has three main points of contact or anchors.
The shoulder where a padded strap generally rests , this takes the bulk of the camera weight
Below arm pit across chest where the second anchor point takes some part of the camera load
At waist , this is where camera rests when not in use. The height and location can be easily adjusted .
How a 3 point camera sling works ?
Well the functioning is fairly simple , the three anchor points take the weight of the camera while securely attaching it to your body.
The camera hangs by the waist in flat resting position , ready to be used whenever required. The camera movement is guided by rubber / plastic caps which move on the harness , the extent of camera movement on the strap can be controlled by these caps.
Hands can remain completely free to do any other activity without the obstruction of the camera. Camera is also safe from bumps and hits as is is resting to the side and not in front.
The weight is distributed across the entire top half of the body and hence camera can be used for long periods.
In cases where the camera lenses are very heavy ( bird photography telephoto lenses or long prime lenses) the slinger can be attached tot he bottom of the lens mount instead of camera.
Here are some of the best 3 point camera slingers that you can buy. We will take a look at Single and two camera versions.
#1 : BlackRapid Curve Breathe : Best 3 point camera slinger for single camera
BlackRapid has been making camera slings for a long time and the new Curve Breathe is a really good option if you are looking to buy a 3 point camera slinger which is of high quality , comfortable and is highly durable as well.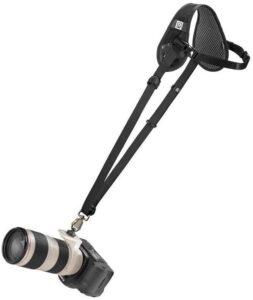 Key Features
The BlackRapid Curve Breathe camera sling has a unique and ergonomically designed cushion that hugs your left shoulder for maximum comfort and stability. You can't go wrong with this sling, which has been chosen by experts and camera enthusiasts all around the globe.
To hold the shoulder pad in position as you walk around and shoot from different angles and views, use the inbuilt underarm stabiliser. This strap is for photographers who prefer to keep things simple. It's tough enough to handle a full day of shooting, plus it's made of lightweight, breathable, moisture-wicking fabrics, much like the rest of the BlackRapid Breathe series slings, to keep you cool as you work your magic.
To keep your gear safe, all BlackRapid camera slings come with a Locking Swivel Carabiner and a Lock-Star Safety Gate.
Specifications :
Strap adjustable length with pad: 66″ (167 cm)
Pad consists of: Nylon mono mesh, TPE foam, polyester and air mesh
Pad Length: 15″ (37.5 cm)
Pad Width: 2″ (4.5 cm – 8 cm)
Pad Thickness: 0.3″ (.65 cm)
Webbing: 100% Nylon
Webbing Width: 1″ (2.5 cm)
In the box : Cam-Locks, Swivel Locking Carabiner, LockStar, FastenR (FR-5), Camera Safety Tether, Underarm Stabilizer, Black Mesh Bag
Product Weight: 6.42 oz
Pros
high quality , Lightweight and comfortable

Good for heavy camera and large lenses

Can be used for long duration
Cons
Safety tether needs to be bought separately and adds to the cost

Slightly expensive

Only for right handed people
You can buy a two camera version of the sling also. Check the link below.
Here are some videos that you can check out to know more about this product.
#2 : Waka Camera Strap : Budget 3 point camera slinger
Waka camera strap has similar if not better features than BlakRapid breathe and is much cheaper. However the overall quality and durability is where it compromises. However if you are on a budget then this is a good option. It will do the job well.
Key Features :
An adjustable underarm strap helps keeping the shoulder pad from slipping. 2 Lockers on the sling strap to lock the camera from swaying.
Stainless steel screw to hold quick release. Solid metal quick release with anti-slipping rubber padding to securely fasten your camera onto the strap. Extra safety tether to avoid the camera accidently fall off.
Anti-slip Neoprene pad distributes weight perfectly. With ergonomic design shaped to fit perfectly around shoulder for constant use and travel.
Make of reinforced durable neoprene material. All metal clasps ensure for long lasting using.
Adjustable: 28.3 in to 37.8 in adjustable quick release strap for a comfortable fit. Ideal for both men and women.
Universal Compatibility: This over shoulder camera strap is heavy duty and support a full size SLR and zoom, compatible with any DSLR camera with standard ¼" tripod stud screw.
Pros
Less expensive compared to similar products

Compatible with all type of cameras

Lightweight

, comfortable with decent quality materials
Value for money
Cons
Durability can be an issue with extended usage
Conventional neck strap for camera
The traditional camera strap that comes along with the camera is not very ergonomic and causes a lot of neck pain in cases of prolonged camera usage.
The camera is also dangling in front and can easily get damaged while carrying out any other activity.
The hands are also not free to do anything else as you are always want to hold the camera and protect it.
Different types of neck straps and other contraptions have been in the market which help to reduce this pain and ease the situation a bit. Below are some of them and their advantages over traditional neck strap.
Cross type camera strap or harness
The cross type camera Harness is an ergonomically correct camera strap. The extra wide two-strap design allows for the weight of the camera to be evenly distributed across the shoulders, taking the pressure of the heavy camera off your neck.
The strap's flex fabric stretches with ease as you capture your shots and holds the camera close to your body when at rest, allowing for hands-free movement.
The back piece is generally made up of rugged leather. The four-way flex material of the straps won't lose elasticity and the metal swivel hooks are reliable and strong.
Whether you are a professional photographer, an adventure photographer, or hobbyist, you can take the weight of your camera off your neck and focus on capturing your story.
Shoulder strap for camera
A shoulder strap is generally better compared to neck strap and is much easier to use. It also has some safety features and using your camera for longer durations is much easier here.
Following are some of the best features of the shoulder camera strap.
Anti-slip Neoprene pad with ergonomic design distributes weight perfectly and fit perfectly around shoulder for constant use and travel.
20.8" to 31.5" adjustable strap with reinforced soft shoulder pad for a comfortable fit.
Durable stainless steel clasp secures strap to the solid metal mounting base plate.
Extra strong safety tether provides a backup connection point between your camera and strap for additional security.
Universal standard quick plate enables you to attach your camera to a tripod without having to remove the mounting base.
Two plastic buckles on the strap to position your camera and avoid it from sliding.
Zippered pocket allows you to store small accessories for quick access.
A hand strap is also a good option if you want to carry lightweight camera gear for short durations. You can read all about it in our post here.