Have you ever wondered which is the most expensive camera in the world ? We will try and answer that question today as we take a look at some of the most expensive cameras in in the world across various sizes and formats.
Some of them are commercially sold and some are more of art pieces ! So lets dive into it ..
Most Expensive Camera in the world
Cameras have been most commonly used instruments these days. You can find cameras as cheap as few dollars to as costly as few thousand dollars.
Depending on whether you are a beginner or a pro user , one can decide how much money you want to spend on a camera. But will you ever spend $2.97 million for a camera ! Sounds crazy right ?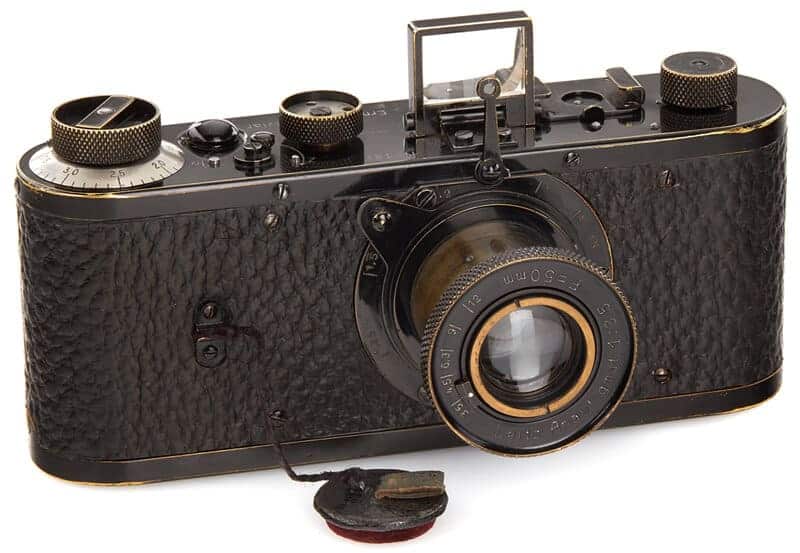 But its a fact . The most expensive camera in the world is the Leica 0 Series and it was sold for a world-record $2.97M in 2018 at a Leica auction in Vienna , making it the the most expensive camera ever.
This camera is not exactly something that you can go to a store and buy. It's a rare camera for collection and not something that has real life use.
This is also the most expensive vintage camera. The camera was produced in 1923 as a part of limited series. Only 25 were ever produced and as few as 3 are in original condition today.
Here is a video if you are interested to see some more details about it.
Now that we know the most expensive camera in the world that actually does not work ! lets get to something more useful for actual photographers and users. Lets now focus on expensive cameras which are commercially available in the market.
Most Expensive Camera in the world that you can use !
Lets take a look at three of the most expensive cameras in the world of photography. They are not the normal DSLR cameras and can shoot some amazing details.
Phase One XF IQ4 150MP Camera : Price $55,000
Phase one XF IQ4 is the most expensive camera money can buy today. Its priced in the range of $50,000 – $55,000 depending on where and when you are buying it.
This is for professionals who are looking for extreme image quality and resolution required especially for large print sizes for commercial work.
The sensor in the Phase One XF IQ4 has a a resolution of 150 MP and measures at a staggering 54 x 40.5 cm. This is a little more than 2.5 X the size of a full frame camera sensor. This almost matches with the 645 film format and is the biggest sensor available in the market.
This format, used by both Phase One and Hasselblad is the largest digital sensor format in large-scale production and sits as the only practical format option beyond the smaller 44 x 33mm medium format used by Ricoh, Fujifilm and Hasselblad's X1Ds.
Here are some brief specifications of this camera. You can always check the manufacturers description here.
| | |
| --- | --- |
| RESOLUTION | 151MP (CMOS BSI) |
| DYNAMIC RANGE | 15 f-stops |
| SENSITIVITY (ISO) | 50 – 25600 |
| LONG EXPOSURE | 60 minutes |
| ACTIVE PIXELS | 14204 x 10652 |
| OUTPUT IMAGE DIM. 300 DPI | 120.26 x 90.19 cm |
| STORAGE | XQD, CFexpress, SD, Capture One |
| TETHERING | Ethernet, USB-C, Wireless |
| XF POWERSHARE | ✓ |
| 2 TOUCHSCREEN DISPLAYS | ✓ |
| 5 YEAR WARRANTY | ✓ |
Phase One XF IQ4 150MP Camera System
You can check out the test seen and sample gallery at preview by clicking on below links ..
Hasselblad H6D-400C MS : Price $47000
Hasselblad has pushed image quality to the absolute limit once again with their latest Multi-Shot camera. The incredible H6D-400c MS is Hasselblad's most color accurate and high resolution medium format camera today.
Its 400MP photo output, combined with real RGB color data for each pixel, captures every little detail in the subject, whether you're photographing luxury automobiles, artworks, delicate textiles or diamonds.
Simply put, the Multi-Shot image delivers true color and an unrivaled moiré-free level of detail.
The H6D-400c MS employs sensor-shift to combine up to six captures into a single colossal picture with dimensions of 23,200 x 17,400 pixels.
If you adhere to the idea that 300PPI is "photo-quality," then you may make a print of about 2.0 x 1.5 m (about 77 x 58 inches).
The camera is tailored toward the art digitizing industry and other sectors that require super-resolution and accurate color.
To get a better picture, the Dual-Tech camera uses Multi-Shot technology, which involves moving the sensor by 1 or 1/2 a pixel at a time with a precision piezo actuator and collecting more color information and data than in a single-shot capture.
The images are then combined in Phocus, Hasselblad's proprietary desktop software, to create a single finished file with extraordinary amounts of detail and color information.
Multi-Shot capture does require a host computer, a static subject, and a controlled studio environment.
You can read more about this camera on dpreview here.
Mamiya Leaf Credo 80MP Digital Back : Price $36,000
The Credo 80MP digital back has a DALSA CCD sensor with a 53.7 x 40.3mm dimensions and a 12.5-stop dynamic range and capture rate of 0 to 0.7 frames per second (fps) (10,320 x 7752 pixels).
The Samsung Galaxy Y is a phone with a 3.2″ LCD touch screen display that has a resolution of 1.15MP and an easy-to-use graphical user interface for fast menu and picture navigation.
Also included to further enhance your digital workflow is Phase One Capture One for tethered shooting application and RAW file post-production.
The 645DF is a robust platform on which to construct and customize an expanding digital medium format system. Despite its enormous size, this body has an ergonomic design that makes it pleasant to grip.
The Mamiya 645 Pro system is compatible with a wide range of Mamiya 645 lenses and digital backs. The Schneider-Kreuznach optical design, fast 80mm f/2.8 LS D lens is a normal length lens with an aperture of f/2.8 and focal length of 80mm.
Here are some specifications of this and other similar models ..
| | | | |
| --- | --- | --- | --- |
| Specification | Leaf Credo 80  | Leaf Credo 60  | Leaf Credo 40  |
| CCD size  | 53.7 x 40.4 mm | 53.0 x 40.4 mm  | 43.9 x 32.9 mm  |
| Pixel size  | 5.2 micron  | 6.0 micron  | 6.0 micron  |
| ISO  | 35-800  | 50-800  | 50-800  |
| Capture rate (frames per second)  | 0.7  | 1.0  | 1.2  |
| Exposure time  | Up to 2 minutes  | Up to 1 minutes  | Up to 1 minute |
Mamiya Leaf Credo 80MP Digital Back Specification
Most expensive DSLR Camera
When we take a look at the most expensive DSLR cameras in the world we need to focus on not one but two models. Nikon and Canon are the leading DSLR camera manufacturers in the world and both of them make flagship models which coincidently have the same price $6499 !!
Lets a close look at both these cameras and what they have to offer.
Most Expensive Nikon Camera : Nikon D6
Nikon D6 is the flagship model from Nikon and the most expensive Nikon camera. Nikon D6 replaces D5 model.
The top of Nikon's DSLR lineup the D6 is a full-featured camera with a strong focus on performance, speed accuracy, reliability, and reliability.
Proficient in both the photographic and video The D6 is based on an 20.8MP FX-format camera and it comes with an EXPEED 6-based image processing unit, which can provide an astounding 14 frames per second continuous shooting as well as a native sensitive range of ISO 100 to 102400 (expandable ISO 3280000). ISO 3280000) and UHD 4-K recording with 30 frames per second.
When shooting stills, a redesigned high-density Multi-CAM 37K autofocus system has cross-type points 105 that enhance focus speed and accuracy and, with 1.6x larger frame coverage and the requirement to recompose during shooting is significantly diminished.
The focusing system is also compatible with 17 custom group Area AF patterns that are suitable for working in cluttered or chaotic situations or when subjects are moving fast.
Here is a link to the manufacturer website and a video which explains the product in detail.
Most Expensive Canon Camera : EOS-1D X Mark III
The most expensive Canon camera on the list is the EOS -1Dx Mark III this replaces the previous version 1Dx Mark II. 1D series has been the most powerful camera in the Canon lineup for many years and same is true for the 1Dx Mark III.
It is designed for speed, sensitivity and accuracy The Canon EOS-1DX Mark III is a powerful DSLR specifically designed for wildlife, sports and other demanding and exciting imaging applications.
It was created as the flagship device for the EOS system The 1D X Mark III is distinguished by its high-end processing capabilities as well as its speed for both photo as well as video apps.
It features a new 20.1MP full-frame sensor as well as an upgraded DIGIC X image processing This camera can shoot at continuous speeds of up to 16 frames per second with the optical viewfinder . It can also shoot up to 20 fps when in live view. It also has an unlimited shot buffer when shooting raw and JPEG.
To complement this speed, there is an incredible natural sensitivity range of ISO 100-102400 that can be increased to ISO 50-819200 to allow for work under a range of lighting conditions.
The speed also benefits from also the EOS iTR AF X autofocus system, which makes use of 191 points for rapidly and precisely in achieving focus. It also allows Face tracking and Head Detection AF functions that make use of Deep Learning Technology, to ensure that the focus is maintained upon moving subject.
In addition when working in the live mode, Dual Pixel CMOS AF utilizes 3869 manually-selectable points and offers smooth natural, natural focusing experience similar to how cameras get focus.
Here is a link to the manufacturer's website and a video preview of the product.
Most Expensive Mirrorless Camera
Many camera manufacturers have been getting into mirrorless technology in last few years. Starting from budget end all the way upto high end professional cameras , mirrorless technology has been catching up and now leading the DSLR cameras.
Sony has been at the forefront of this and Sony Alpha 1 is the most expensive camera in its lineup at around $6500 , Leica and Hasselblad also have expensive mirrorless cameras such as Leica SL2 and Hasselblad X1D ranging in the similar price range of 6 to 7 thousand USD.
The most expensive mirrorless camera in the world comes from Fujifilm. The Fujifilm GFX 100 is the most expensive mirrorless camera in the world.
Most Expensive Nikon Camera
Most Expensive Cinema Camera
Most Expensive Analogue Camera