DSLR cameras have been highly popular for video over the past several years. This trend is currently being carried on by mirrorless cameras.
Many new capabilities have been introduced, including resolutions up to 8K, and DSLR cameras can now generate very beautiful video. There is, however, a snag!
The audio quality of the built in DSLR microphone is often poor, and it may completely spoil from the movie.
Even if you shoot the finest video imaginable, if the audio isn't up to par, viewers will typically dislike it. It is often said that you can operate with poor video quality but never with poor audio quality!
A easy technique to enhance the sound quality of videos produced with a DSLR camera is to use shotgun or lavalier mics. Furthermore, they are not required to be installed on your camera.
An on camera or off-camera DSLR microphone will be a prefect addition to your video gear.
So lets get into some details ..
DSLR Microphone : What are the options we have ?
When it comes to on camera or off camera external microphones for DSLR or mirrorless cameras there three main types.
Shotgun Microphone
Lavalier microphone
Handheld dynamic microphone
However most DSLR and Mirrorless cameras lack the required connections for a handheld dynamic microphone and work best with a Shotgun and Lavalier microphone.
In tis post we will see some options for both these types covering different budgets , starting from $30 to $300. Before we go into the details of all these options, here are 5 DSLR microphones that we recommend for video production work.
Best DSLR Microphone : Shotgun Type
Most people use these microphones to connect to their DSLRs. They work very well and are very easy to use. Shotgun microphones are said to be "highly directional." Their long shape can help them pick up sounds that are very hard to catch from a long way away.
But their main job is to keep out unwanted noises so you can get the clear sound you want. They can be put on top of boom poles or, most often, on top of your camera.
On- camera setup is good for Vlogging or YouTube video work , for film production work Shotgun microphone mounted on boom pole is the best option.
Lets take a look at some of the best DSLR shotgun microphones that are available in the market across all price ranges.
This Rode DSLR microphone was designed for DSLR cameras and other small audio recorders. It's the best of the best. It is the most dynamic, high-quality, and easy-to-use microphone on the market, and most professional vloggers use it when they want to record their own videos. A Supercardioid pattern makes sure that any noise from the outside world doesn't get through, so there is only a very low level of noise.
In addition to having great sound quality, it is one of the best DSLR microphones from battery life point of view. When the battery is charged, it can last for about 100 hours. Whenever your camera turns on, it turns on, too.
If for some reason you need to switch it to a boom and take it off your DSLR, you can plug an extension cord right in and do that. This is the best DSLR microphone for YouTube , Vlogging and even for professional production work when mounted on boom pole.
Features of Rode VideoMic Pro+
Auto power on/off (yes!) with a detachable cable.
Safety channel (records audio at lower gain setting in case of spiking)

Selectable gain options -10dB, 0dB, or +20dB

Has safety channel — records at lower gain in case sound spikes
2 stage high pass filter at 75 and 150Hz
Low noise
3.5mm stereo mini jack output
Low-end pickup range increase from 40 to 20Hz
Integrated windscreen
Rode VideoMic Pro was the best DSLR microphone before the Pro+ version was launched in 2017. It is still and excellent microphone and only misses out on some features compared to Pro+.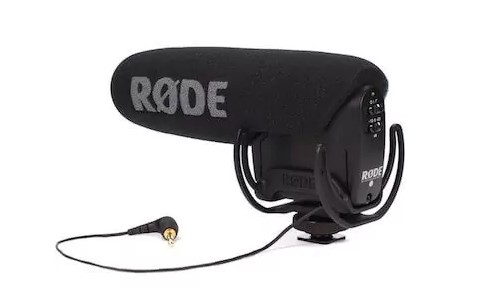 On-camera shotgun mic The Rode VideoMic Pro is a great choice for Youtubers and Vloggers. It gives you a lot of options. The best thing about the Pro model is that it has a +20dB level boost, which lets you get better sound from a long way away. Besides that, it also has a 0dB and -10dB setting, a flat and 80Hz high pass filter, and very little noise. The built-in Rycote Lyre shock mount is the best.
You can still use your camera's eyepiece while you have your microphone attached to your shoe because the mount and back of the microphone are in a good place. It doesn't stand out in the picture.
Features of Rode VideoMic Pro
Rycote® Lyre® shock mounting onboard
All-new capsule with lower noise and higher sensitivity
Broadcast recording quality condenser microphone
Compact form factor (150mm/6" length)
Ultra lightweight (85g/3oz)
9V battery powered – over 70 hours use (alkaline)
Integrated shock mounting
Integrated foam windscreen
3.5mm stereo mini-jack output (dual mono)
Two step High Pass Filter (flat, 80Hz)
Three position level control (-10dB, 0, +20dB)
Camera shoe mount with 3/8" thread for easy boompole mounting
10 year extended warranty when you register your microphone
Rode VideoMic GO
This is a more budget friendly DSLR microphone from Rode. Because the VideoMic GO does not need a battery, you can just plug it in and start recording.
This may be really beneficial for convenience (or if you don't want to be bothered with the hassle of turning the microphone on and off).
Features of Rode VideoMic Go
High quality directional microphone
No battery required
Integrated Rycote® Lyre® shock mounting
Rugged reinforced ABS construction
Windshield included
3.5mm mini-jack output
Integrated cold-shoe mount with 3/8" thread
Two year extended warranty when you register your product
Sennheiser MKE 600
The Sennheiser MKE 600 shotgun is an excellent alternative. Beginner users may find it to be a little pricey for their needs, but the sound recording capabilities and audio recording levels are excellent. This is one of the best DSLR microphone in the market.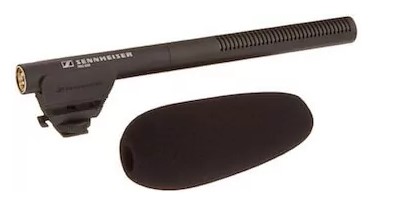 Directivity lowers noise from the sides and back. For the price, the sound quality is superbly recorded by a competent studio.
Using the Sennheiser MKE 600 for stationary video is a great idea. This is the mic for you if you're doing YouTube videos or vlogs and don't require the mobility that other microphones provide. This is by far the finest option for recording voiceovers (interviews, voiceovers, explainer videos, etc.).
Your DSLR may not have an XLR port, making this an inconvenient option. You can simply find a camera adaptor to use. It's also possible to record to an external device, such as a recorder or computer, if that's more convenient. A battery or 48V phantom power may be utilized.
Saramonic VMIC Recorder
An excellent shotgun microphone is the Saramonic VMIC Recorder. You can hear what you're capturing in real time with the inbuilt stereo headphone output (here are some great headphone options). There are two variations available: one with and one without a built-in flash recorder. In addition to recording WAV files on a separate MicroSDHC card, the flash recorder has an LCD display.
If you're looking for something that has a built-in shock mount with -10dB to +20dB volume adjustment, this is the one for you. Both setups of this microphone are superb, and the pricing is right.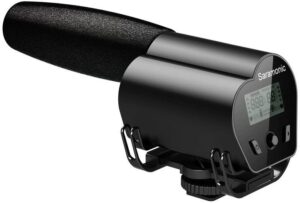 Features of Saramonic VMIC Recorder
Powered by 2 "AA" Batteries (not included, best with Polaroid AA batteries)
Super Cardioid Polar Pattern
Integrated Shock-Mount
High Pass Filter (150Hz), High Frequency Boost (+6dB), and Three-position level control (-10dB, 0dB, +20dB)
All-aluminum Construction
Boya BY-MM1
Boya is known for offering high-quality products at reasonable prices. Shotgun microphones like the BY-MM1 are hard to come by at this price point. You don't have to break the bank to have high-quality sound for less than $30.
Features of BOYA BY-MM1 DSLR microphone
Compatiable with Smartphones IOS and Android, Tablets, DSLR Cameras, consumer camcorders, Audio Recorders, Amazing Mic for YouTubers and Vlogger
Compact and Lightweight Directional Mic, Perfect Mini Mobile Microphone
Rugged Metal Costruction, Perfect Quanlity
No Battery Required, Easy to Use
Professional Furry Windproof Shield Included, Which Specially Used for Minimizing the Wind and Environmental Noise for Outdoor Recording, Make Sure the Sound Crystal Clear
Best DSLR Microphone : Lavalier Type
When the sound has to be near to the speaker and hands-free operation is needed for interviews or product evaluations, these mics are ideal since they are clip-ons, body or collar microphones.
Often referred to as "lav mics," they are best used in controlled environments with little background noise. As a general rule, they aren't the greatest for outdoor videography.
Lets take a look at some of the options for DSLR microphones of Lavalier variety. There are many wireless Lav mics available but today we will see only those which can be directly connected to a DSLR or mirrorless camera.
Boya BY-M1 Lav DSLR Mic
Although it won't be your go-to mic for professional use, this one is really useful, extremely inexpensive, and quite reliable.
Lavalier microphones like this one are built to last and are ideal for home recordings. It is a lavalier microphone that can be clipped on to smartphones, DSLR cameras and camcorders as well as to audio recorders and computers.
Electret Condenser Microphone, Cable Length 6M Electret Condenser Microphone Electret Condenser Microphone Cable Length 6M (20ft). Long-distance recording is a breeze with this setup. You'll also receive a second windscreen and clip as a bonus, in addition to the included lapel clip and LR44 battery.
Product warranty and after-sales service provided by BOYA: 12 months.
The Rode SmartLav+ is an excellent alternative to the Boya lav mic if you want better sound quality at a lower price. The 3.5mm TRRS lav mic's clip is more durable than expected, and the sound quality is excellent for the price.
With the microphone, you get a windshield and a microphone clip.
You may use it with your DSLR or even put it directly into your smartphone for outstanding sound quality thanks to the omnidirectional polar pattern.
Features of Rode SmartLav+
Broadcast quality, professional-grade Lavalier Mic with TRRS Jack
High-quality omni-directional condenser capsule
Discrete 4.5mm miniature microphone
Compatible with iOS devices and select Android devices*
Kevlar® reinforced cable
Includes wind shield and durable mounting clip
24 month warranty when you register your microphone
Conclusions and Suggestions
Adding a Shotgun or Lav microphone to your DSLR or mirrorless camera will be one of the first things to do as you start your video making journey.
Automatic gain control (AGC) on the camera is most likely to blame if your DSLR microphone picks up a lot of static and background noise when someone stops talking. In many circumstances, you'll want to disable it.